I recently returned from the U.N. Conference on Climate Change in Poland (COP24). It was an important meeting that all forward thinking people should have been able to follow or participate in (either in person or digitally),because the topic concerns us all as well as our children and their children. I was fortunate to be part of the HEAL delegation, and to be an active participant in both the conference itself as well as the side events aligned to it.
Negotiators from 196 countries and the European Union worked for two weeks on the Katowice Climate Package, implementing the Paris Agreement. The presence of many heads of state, government and almost 100 Ministers of the Environment and of Foreign Affairs from all over the world made it a unique occurrence. Thanks to the consensus, which has been agreed on by the Parties because of their commitment, Katowice has become, after Kyoto and Paris, another milestone on the way towards a sustainable global climate policy.
The many meetings during the event broadened my understanding about the interplay between pollution, climate, health and sustainability.
The Dec. 2-14 conference began this year with a major scientific report projecting the world on pace to reach dangerous warming levels as early as 2030 — less than a dozen years away. The report was extensively commented by Dr. Diarmid Campbell-Lendrum from the WHO.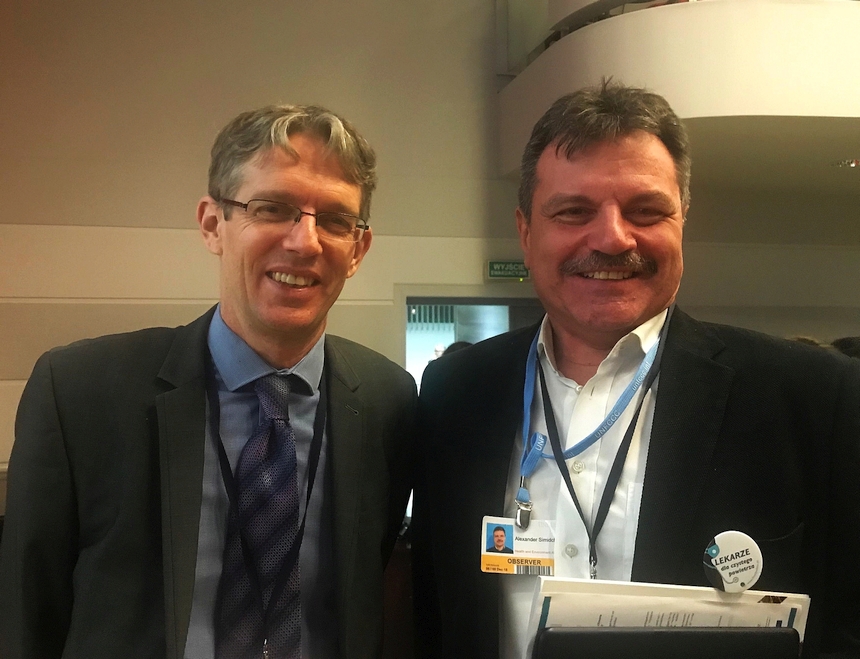 At the end of the first week, New Zealand issued a defence policy statement that labelled climate change its most significant security threat.
During the meeting I had ample opportunities for meetings that included discussions with colleagues like Prof. Tadeusz Zielonka - a fellow pulmonologist from the Polish Respiratory Society and fellow member of the HEAL delegation, who is deeply engaged in air pollution research and activities within Poland. We pledged to continue post COP24 in research projects between our respective organisations.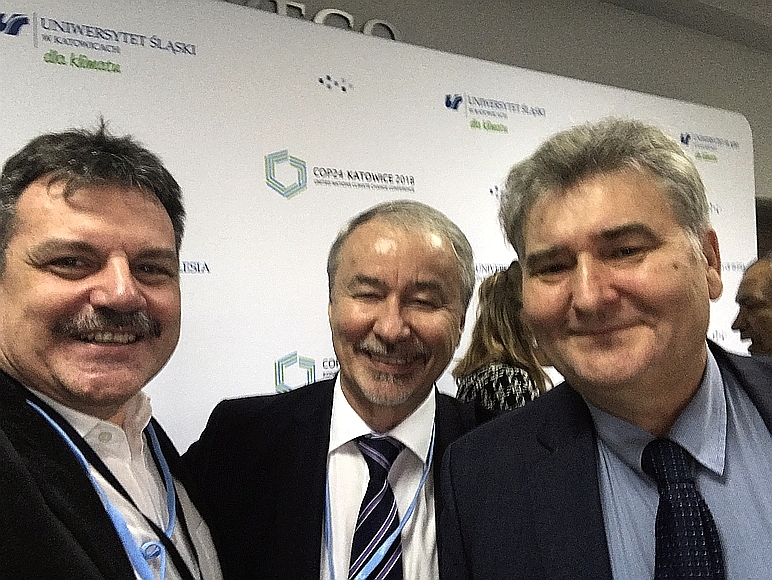 | | |
| --- | --- |
| | Listening to and meeting colleagues like Prof. Wiesław Banyś from ProSilezia (in the same room where his portrait adorns the lecture hall wall) broadened horizons and enabled networking, which will bear fruit in the coming months |
Slowly but surely, the world seems to be waking into the new reality with the need for a sustainable future.
Fantastic talks also happened on COP24 side events, two of which deserve special mentions. The HEAL "Climate change and health - which role for the Polish health sector" event and the Global Climate and Health Alliance - "Climate and Health Summit 2018" - on December 8-th at the University of Silezia.
The GCHA Health Summit was chaired by Jeni Miller - Executive Director of the GCHA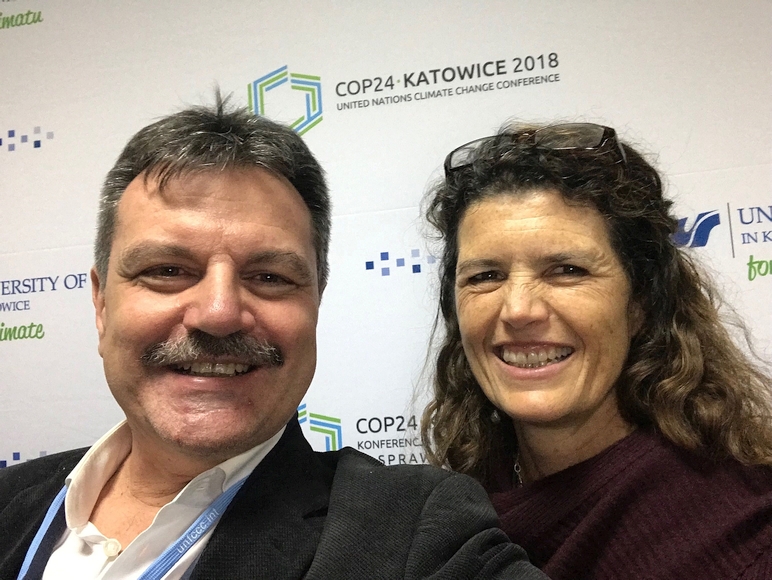 Vijoleta Gordeljevic Health and Climate Change Coordinator with HEAL and Prof. Susana Mónica Marinho Paixão from the University of Coimbra, and president-elect of IFEH were also impactful presenters and participants at the event.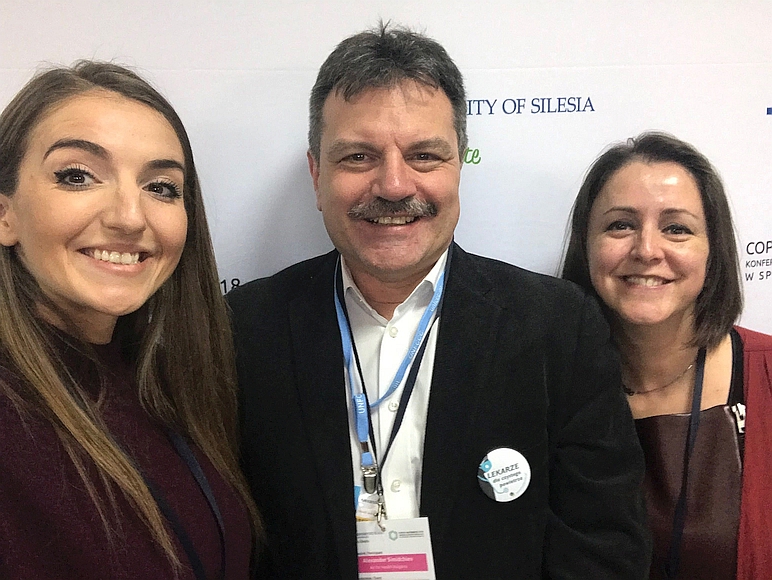 The Bulgarian contribution to the above event was streamed live off of our FB page
And a brief summation after this synopsis on our participation in COP24...
Our society seems hell-bent on destroying its tomorrow by holding on to its yesterday. In this situation, the principal groups these days that seem to be contributing more effectively on the topic of climate change are religious leaders, spiritual teachers and more philosophic individuals who know that nothing much can happen to the world around us until something happens within us that is beyond money and power, that strives to attain global harmony and world peace. I saw many like this in Katowice this year.
And finally... a safe landing back home 🙂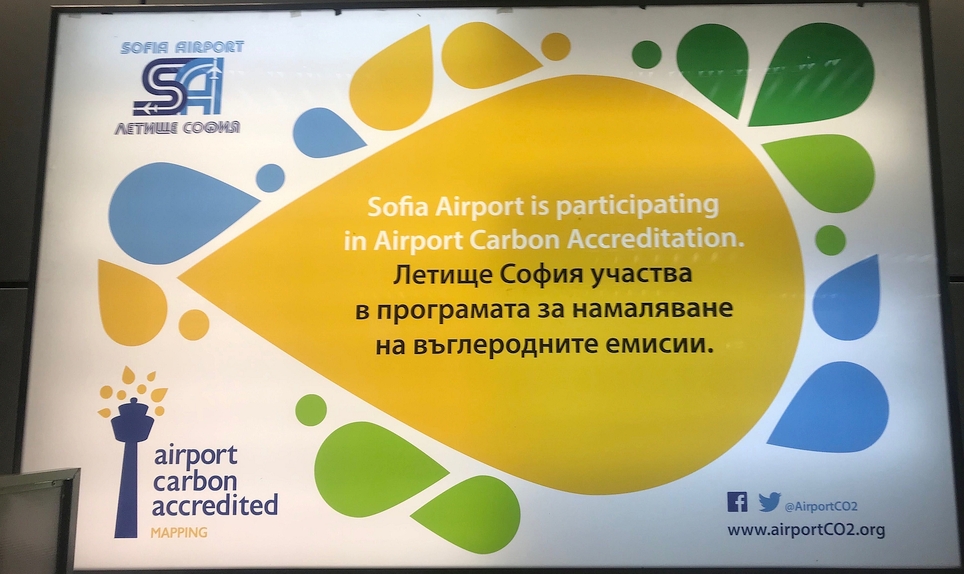 We want to be understood correctly. We do not interfere or meddle in the economy, nor energy or politics. Our expertise is in health and health protection/disease prevention. Our statement aims to focus attention on the health consequences of activities generating air pollution. The health consequences need to be included in the equation, when calculating the true cost and economic viability. The reason for this we feel is self-evident. There is no working economy without healthy people.
[flipbook id="6"]
We would like to extend our gratitude to all our partners, collaborators and like-minded supporters, as well to our well-meaning critics, who contribute to enhancing the health aspects of air-pollution to social awareness. We feel this is vital for solving this problem effectively.
A little researched topic on the association of tuberculosis incidence and exposure to air pollution was recently published as an article in Nature.

The authors investigated the associations of ambient air pollutants (particulate matter with aerodynamic diameter <2.5 μm (PM2.5), sulfur dioxide (SO2),nitrogen dioxide (NO2), ozone (O3), and carbon monoxide (CO)) in relation to the risk of pulmonary TB in a cohort of Chinese TB patient in Jinan city from 2011 to 2015. A total of 9344 newly diagnosed pulmonary TB cases were included. Four different air pollution exposure windows (3, 6, 9, and 12 months) before TB diagnoses were calculated from the daily concentration of air pollution. In categorical analysis, the authors observed statistically significant overall associations between pulmonary TB risk and PM2.5 (3 month exposure window: RR = 1.228, 95%CI: 1.091–1.381) as well as CO (3 month exposure window: RR = 1.169, 95%CI: 1.028–1.329; 9 month exposure window: RR = 1.442, 95%CI: 1.028–2.024) exposures. Moreover, subgroup analyses suggested that most of the air pollutants (PM2.5, SO2, O3, and CO) were significantly associated with increased risk of TB among the males, the females, the <60 years, and the smear negative cases. The dominant statistically significant associations were detected at 3-month exposure window of air pollution before the diagnosis of TB. The suggestive evidence is that the 3 month air pollution exposure window was associated with increased TB risk and warrants further investigation.
Air pollution has been a burning issue ever since humans discovered how to make fire. Today, nine out of 10 people around the globe are exposed to indoor and/or ambient air pollution that exceeds World Health Organization safety levels. So it might come as a surprise that the World Health Organization is having its first ever international conference on air pollution and health.
The conference takes place in the run-up to the next international climate event in Poland [COP24] which will respond to the latest scientific report that has warned we may have only 12 years to limit climate change catastrophe. Will such urgency be just what is needed to deliver large scale systems change in energy, transport and land use?
Air pollution is responsible for over 7 million premature deaths per year. Local and global air pollution is now top of the UN and WHO agenda with the health impacts of air pollution included in the UN Paris Agreement.
We know that we need to phase out fossil fuels for renewables, encourage active travel such as walking and cycling, and protect carbon stores in forests, soils and peatlands. So why the delay?
Climate change action has been dogged by a slowness to first accept the scientific evidence, then to embrace the mechanisms to deliver low carbon economies. This has been largely due to vested interests but also due to the sense that it may be hard to take meaningful action at an individual level.
One sector making a real impact though, is the health sector. On a daily basis, doctors, nurses, public health practitioners and allied healthcare professionals see the damage done by air pollution and climate change causing disease, disability and death. A quarter of deaths and disease from stroke and from ischaemic heart disease are due to outdoor air pollution; over one fourth of deaths and disease from lung cancer; and 43% of all deaths and disease from chronic obstructive pulmonary disease (COPD) are due to ambient air pollution.
Unmask My City, a global initiative that focuses on improving air quality in our cities has been working with health professionals to highlight the impact of fossil fuel use – coal, gas, diesel – on air quality and people's respiratory, cardiovascular and cognitive health. One of the cities that joined this initiative is Sofia, Bulgaria. Here we are working with the Global Climate and Health Alliance (GCHA) to highlight poor air quality in Sofia and some of the larger cities in Bulgaria.
We are working closely with local health professionals, municipality officials, fellow NGO organisations (like WWF, ZaZemyata, Gorichka and umbrella patient organizations like NPO) to raise awareness and offer evidence based approaches to tackling this complex issue. A priority is establishing WHO safety levels for pollutants across EU territories, as it is obvious that non-medical reasons have been at play in establishing the current EU norms.
Air pollution levels must be brought in line with WHO safety standards in our cities. Our children and grandchildren deserve it.
Clean, renewable energy, better active and public transport infrastructure, electric vehicles, the elimination of fossil fuels subsidies, and smarter urban planning are but a few of the choices policy makers can deliver to avoid countless preventable deaths and drastically improve air quality for all.
Tackling climate change and air pollution is one of the WHO's top five global priorities for the next four years. It's great that WHO is having its first ever conference on air pollution. We'll be checking in with the conference on 31 October, World Cities Day and beaming live real time air quality reports from Sofia. In sharing our local levels of air pollution we hope to get on the radars of decision makers at the conference to urgently remind them that everyone has a right to safe, clean air. With perhaps only 12 years to tackle climate change effectively, the clock starts ticking at this WHO conference. It's time to help us and our planet breathe.
---
Burning wood or coal for cooking is associated with an increased risk of hospitalization or death from respiratory illness, according to a new study conducted in China and published online in the American Journal of Respiratory and Critical Care Medicine.
Researchers from the University of Oxford in the United Kingdom and the Chinese Academy of Medical Sciences report that hospitalizations or deaths of chronic and acute respiratory illnesses were 36% in those who used wood or coal for cooking, instead of those who used electricity or gas.
Researchers also report that the longer people use solid fuels, the greater the risk of hospitalization or death from respiratory disease than those who cooked with gas or electricity. Those who use wood or coal for 40 years or longer have a 54% higher risk of hospitalization or death from respiratory illnesses, while those switching from solid fuels to clean burning fuels reduce their risk to only 14% higher than those who have never been burned on wood or coal.
This past week was one of the most exciting for me in the last couple of years. I participated in two top notch global events. The Clobal Climate and Health Forum (GCHF) in San Francisco, and the European Respiratory Society Congress (ERS) in Paris - practically back to back.
Today in Paris was "no car day", which framed nicely, what I was anticipating to be an super exciting event @ ERS - the Symposium Air pollution and transplantation: near to one's heart and lungs! (catchy title) Co-chaired by Prof. Dr. Bart Vanaudenaerde (Leuven, Belgium) and Prof. Dr. Christophe Pison (Grenoble, France) two prominent researchers on lung transplant consequences. The presenting faculty were: Prof. Frank Kelly (Professor of Environmental Health @ Kings College London) who delivered a fantastic talk Linking ambient particulate matter pollution effects with oxidative biology and immune responses, Prof. Paul Cullinan (Professor in Occupational and Environmental Respiratory Disease at the National Heart and Lung Institute UK) elucidating Epidemiological evidence for air pollution being a risk factor for transplant failure and Prof. Valerie Siroux (La Tronche, France) sharing a brilliantly structured talk on Air pollution and Respiratory health: epidemiological evidences and clinical implications. Each talk in itself could have easily been a "raison d'être" for a action on air pollution, but each of the presentations ended in low-key "more data is required". This in front of an audience of less than 20 participants in a Congress with over 20 000 registered specialists with a self identified dedication to lung health?!?

The above sharply contrasted from the sentiment I had sensed @ CGHF, where over 250 environmental scientists, including urban planners and public health professionals were barely contained in the auditorium at UCSF sounding urgent and highly concerned (using many of the same sources of published and peer-reviewed literature).
This prompted my question and comments on how we are presenting the facts to the very people (pulmonologists) who should lead the public health debate around air-pollution - given the nature of their organ-related expertise and declared prophylactic foundation of the practice of medicine. Prof. Cullinan rebutted that this is a scientific meeting (not an activist gathering - I would presume as his unfinished comment), and Prof. Kelly added that in another situation he could be more insistent on the topic (obviously ERS was not perceived as the right place to sound an unequivocal expert warning of the health consequences of air-pollution). To add insult to injury, neither seemed eager to further discuss the topic or engage in a longer term professional dialogue on communicating the health risks to the wider professional audience of the ERS membership.
My hope, that experts of the global caliber of Prof. Kelly and Cullinan, with decades of highly scientific endeavors in the field of air quality and health, would embrace a proposal for effective communication, were dashed, with the undeclared innuendo that science is not about emotions.
I believe that we should not extract emotion from data to make it seem or sound more "scientific", we rather need to add all available data to our intrinsic passion to make it good science that effects meaningful change. Seven million reasons each year are hoping for this, while our colleagues are suffering from dwindling attention spans induced by information overload.
Politicians are polarizing most debates (driving a wedge in many topics including air-quality). Science and its communication is the only countermeasure available, though rarely used effectively as perceived by me above. Not bland data just short of the limit of discernible significance rather Science with the expressed passion for doing the right thing, for current and future generations.
Dr. Alex Simidchiev MD, MPH
Human/Pulmonologist/Parent/Grandfather
Air4Health - Bulgaria
Sapienti sat!